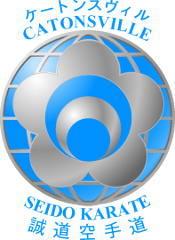 Training Fees
Fees are set by the Catonsville YMCA. The cost per 7 week session (14 classes) is:
Y Member: $65.00
Open Rate: $105.00

No long-term contracts, no high-pressure sales.
You can register in-person at the Catonsville Y. Call for more information: 410-747-9622
To register on-line, go to https://www.ymaryland.org/register (link will open in a new tab or window), and after setting up your account with the Y click "Browse By Location" then "The Y in Catonsville" then "Karate", then select Youth or Adult.
(If the "Browse By Location" button does not appear for you due to your browser's settings, try this search link.
Financial assistance is available through the Y. I do not want to turn away students for financial reasons; if you want to train but cannot afford to do so, we will make arrangements.
Other Costs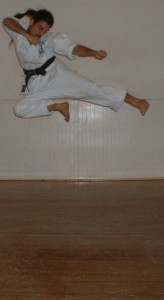 Training fees do not include additional expenses, such as:
Purchase of a uniform ("gi"). I suggest that new students - especially kids - wait a few weeks and see if interest continues before purchasing a gi; you can train in a t-shirt and sweatpants at first. Karate gi are available from karatedepot.com for about $20 to $30; locally, good gi can be purchased at the Kiyota Company, 2326 N. Charles St. You probably want to get 100% cotton (though young kids who don't sweat as much might get away with a poly/cotton blend), and make sure you get a karate gi (not a judo gi, not a tae kwon do uniform).
World Seido Karate Organization membership. $20/year, 3 years for $40. Must be a member before taking promotion; again, I suggest new students wait a bit.
Seido Karate patches for the gi. Buy a set when you join the organization. $25 for a pair. Patches last a long time, they will likely outlast your gi and can be transferred to a new one.
Promotion fees. Promotion exams are held at the Howard County YMCA Seido Karate Program. For students below green belt, the fee is $25. Your first few promotion exams might be at three to six month intervals; they get further apart as you go on. (Black belt promotions are held at our headquarters in New York and are more expensive - but it's a little early to worry about that...)
Sparring safety gear. You don't have to worry about buying this until you reach green belt, typically a year to eighteen months of training.
Books. Not a mandatory purchase, but I recommend Kaicho Nakamura's "textbook" Karate Kyohan and autobiography The Human Face of Karate to all students. (Both are available via phone order from the Seido Karate Honbu: call 212-924-0511 to order either title. Or try the new Seido on-line store. We have a dojo copy of Human Face of Karate for lending.) Other recommended reading includes Gichin Funakoshi's autobiograpghy Karate-do: My Way of Life, and Eugen Herrigel's famous Zen in the Art of Archery. If you keep training you might find yourself collecting martial arts books - it can become an expensive habit!