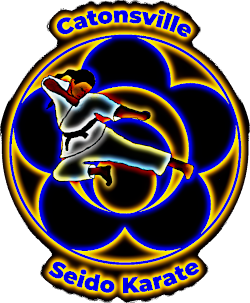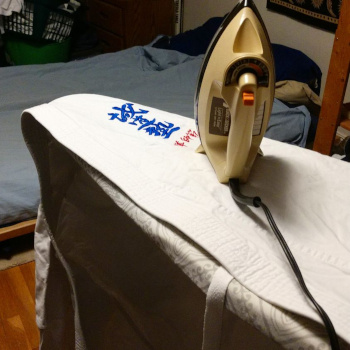 Buying And Caring For A Karate Gi
Karate gi prices can range from under $30 to over $300, mostly based on the weight and quality of the fabric. A lightweight gi will not last as long but may be suitable for kids who will outgrow them. Adult students may want to invest in a middle-weight gi, slightly more costly but longer lasting.
It is an important part of the aesthetic that we all wear the same, rather plain, uniform. Please make sure you get a white karate gi -- not a jujitsu or judo gi, not a tae kwon do uniform, not black or blue or natural "unbleached" cotton.
Gi suitable for beginning students are available online from kungfu4less.com or warrioremporium.com. If buying on-line, the seller should have a size chart, gi sizes are their own thing.
Locally, gi can be purchased at the Kiyota Company, 2326 N. Charles Street in Charles Village (tell Mr. Kiyota that you're a Seido karate student and he'll make sure you get the right type), or Warrior Emporium, 66 Alco Place in Lansdowne.
We sometimes have donated used gi available in kids sizes, occasionally in adult sizes too.
You probably want to get a 100% cotton gi, though young kids who don't sweat as much might get away with a poly/cotton blend. A student gi will usually come with a white belt. (If you're buying a more expensive heavyweight gi, manufacturers assume you already have a belt.)
Note that cotton gi are not preshrunk, it takes about two cycles of hot water wash and high heat drying to bring one down to size. For best results, warm or hot water wash with line drying is preferred after that. Cotton/poly blends are less finicky about laundry shrinkage, but tend to hold odors and skin oils more, so have their own laundry challenges.
The gi must be washed regularly. In my graduate school days, when I had only one gi and limited access to a washing machine, I would wash it in the sink with dish soap, wring it, and hang it outside or over the bathtub to air dry. (Also works for hotel travel!)
Air drying will help your gi last longer and come out less wrinkled.
Your gi is an athletic training uniform, some wrinkles and sweat stains and sewn-up wear and tear are perfectly acceptable, though for promotions or tournaments you may want to pull out the stain removers and the clothes iron. (I own a few gis and keep the newest ones for special events, but new students don't really have to worry about a multi-year plan for rotating in fresh uniforms.)
Generally, do not wash your obi (belt). The obi wears naturally, this is an important part of the "wabi sabi" aesthetic. Of course if you're training outdoors and your obi gets muddy, or you go to beach training and it gets soaked in seawater and covered in sand, you can give it a hand wash in the sink and hang it up to dry. But never throw it in the washing machine or dryer.
Do not use chlorine bleach, it will eat the fabric. Please avoid strongly scented laundry products. Occasional use of non-chlorine ("oxygen" type) bleach, and/or borax laundry booster, may be useful.
For summer training, please purchase one of our Catonsville Seido Karate t-shirt designs, which will be worn with gi pants and your belt. (Please note that this is a local policy, a "ground rule"; if you train at other dojo during the summer, be prepared with your full gi.)
When you join the World Seido Karate Organization, you will buy the logo patches for your gi. Patches last a long time, they will likely outlast your gi and can be transferred to a new one.