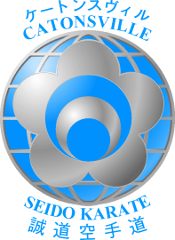 CSK News
With the COVID-19 crisis, our classes at the Catonsville Y are shut down. We are providing on-line classes during the hiatus. Please watch our Facebook page, https://www.facebook.com/CatonsvilleSeidoKarate, for updates on those.
About Jun Shihan Tom Swiss
Jun Shihan ("Associate Master") Tom Swiss began his Seido karate training in 1985. He holds the rank of sixth degree black belt in that art. After receiving black belt ranking in October 1995, he spent several years as an assistant instructor at the Howard County Seido program before starting the Catonsville Seido Karate program in January of 2002. While his primary interests in karate training are personal development and self-defense, he has also competed in tournaments ranging from regional to international.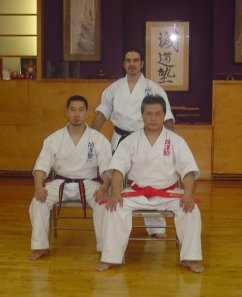 Jun Shihan Tom Swiss with Kaicho Tadashi Nakamura, founder and chairman of the World Seido Karate Organization, and Nidaime Akira Nakamura, vice-chairman. April 2006
Jun Shihan Tom holds a master's degree in Computer Science from the University of Maryland, College Park and works professionally as a software developer. He is also a graduate of the Shiatsu and Asian Bodywork program at the Baltimore School of Massage, an NCCAOM Diplomate in Asian Bodywork Therapy, and a Maryland Certified Massage Therapist, with a small private practice. The knowledge of the human body he gained in this study has been of great value in his subsequent karate training.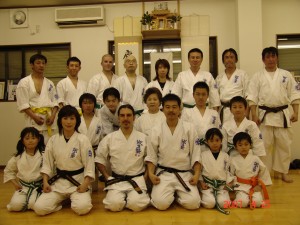 With Senpai Toshiyuki Kuwa and the Kansai Seido Karate club, Osaka, Japan. April 2007
Taking his interest in Japanese culture further, he has recently begun studying the Japanese language, and spent three months living in Osaka (the third largest city in Japan) in the spring of 2007.
Jun Shihan Tom has also built a reputation in the Baltimore arts community as a poet and singer/songwriter. He blogs about karate at Sky Hand Road, and more information about his projects outside of karate can be found at his homepage, infamous.net.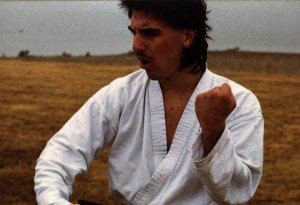 From the archives...Jun Shihan Tom as a young brown belt circa 1990