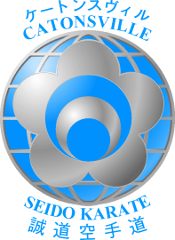 CSK News
With the COVID-19 crisis, our classes at the Catonsville Y are shut down. We are providing on-line classes during the hiatus. Please watch our Facebook page, https://www.facebook.com/CatonsvilleSeidoKarate, for updates on those.
Catonsville Seido Karate Policies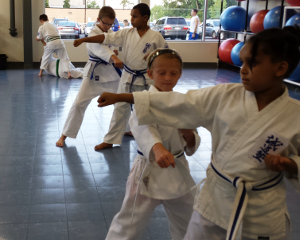 Visitors
Visitors are always welcome. You may watch a class without obligation. If you are a visiting karate student, you are welcome to train with us. (Students from other Seido Karate programs must obtain permission from their instructor first. This is mostly a formality, but a vital one.) Please contact us to check that class will be held the day you plan to visit!
Participation Terms
Participation in our classes is subject to the following terms and conditions:
Participant agrees to follow all safety rules and instructions.
We reserve the right to refuse participation to anyone for any reason.
Martial arts and self-defense training are contact athletic activities with inherent risk, including the risk of serious injury or death. As partial consideration for being allowed to participate and receive instruction, you agree to release all liability, and indemnify and hold harmless for all claims resulting from your participation: all persons giving instruction in this activity; all representatives and members of the World Seido Karate Organization; and any person, group, or organization providing related facilities or services.
Participation is at your own risk.
By participating, or allowing your minor child to participate, you indicate your agreement to these conditions.
Privacy
Information you give us will be used only to assist your training, and will not be sold or shared outside of the Seido Karate organization. When you join the World Seido Karate Organization, your membership and promotion information will be sent to Honbu (headquarters). We will not disclose your information to any third parties except as may be required by law. Photos of students engaged in normal training activities may be used for promotional purposes, including web pages, social media posts, and on printed fliers or brouchures; if you would prefer to not appear in such photos with you please let us know.
Information you give to the Y for registration is subject to their policies.
Non-discrimination
Seido Karate is an international family that values diversity. We do not discriminate based on gender, race, sexual orientation, or religion. We are a welcoming and cosmopolitan community.
Potential students with special needs are encouraged to contact us - we believe that the benefits of karate training should be available to everyone.
Youth Training
Our 6:15pm class is geared towards elementary and middle school age students, age 7-13. (Students age 6 may be admitted on a case-by-case basis, but generally only if they are training with a parent or older sibling.) Parents are welcome to take this class with their children.
(Note: if you are looking for karate classes for younger children, the Pee-Wee program at the Howard County YMCA takes children as young as five.)
We are a dedicated martial arts class, not a play group. Youth students are expected to display appropriate maturity and mental focus, to follow instructions and etiquette rules, and to treat fellow students and instructors with respect. For the safety of all, students who are unable to behave maturely will not be permitted to train, but will be welcome when they are older and more mature.
Adult and Teen Training
"Do not say too late." -- Zen Master Shunryu Suzuki
You don't have to start karate training as a kid! Around the world, students in the 60s, 70s, and even 80s have enjoyed the benefits of Seido Karate training. Adults of all ages are welcome to join us. We love beginners!
Teens 13 and up are welcome to train in our 7:30pm adult class.
Inclement weather
Inclement weather policy is set by the YMCA; call the Catonsville Y at 410-747-9622 for closing information.