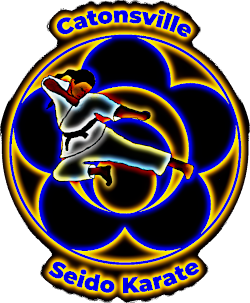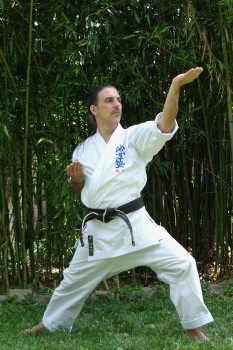 Music City Karate - Putting The Martial Arts In Baltimore County's Arts and Entertainment District
Get fit, learn to protect yourself, and strengthen your spirit with Seido Karate!
Catonsville Seido Karate provides traditional Japanese karate training for self-development, self-defense, and physical fitness for adults of all ages, teens, and children ages 7 and up. Our classes are located in the Mount DeSales / Edmondson Ridge neighborhood of Catonsville -- convenient to Route 40 West and the Beltway, and just 15 minutes from downtown Baltimore.
Taught by Jun Shihan Tom Swiss, a sixth-degree black belt with over thirty years experience.
Our adult/teen class welcomes students 13 and up. Older adults are welcome, it is never too late to start. Whether you're in your teens or your 70s you are welcome to join us and explore the benefits of Seido Karate training. We love absolute beginners! No prior martial arts, sports, or athletic experience is necessary.
Our youth class is geared towards elementary and middle school age students (age 7-14). Parents or other family members are welcome to train with young students.
Training includes fundamental techniques (kihon), forms (kata), controlled sparring practice (kumite), and seated meditation (zazen).
New schedule takes effect in June!
Regular Schedule thru May:
Tuesday and Thursday
Beginner: 6:15-7:05pm
Established students: 6:15-7:15pm
Intermediate/​Advanced: 6:15-7:25pm
Extended training: until 7:45, rotating basis, see below
First and third Tuesday: kumite and drills, yellow belt and above
Third Thursday: basics review for white to advanced blue belt
Fourth Tuesday: Black belts, bo
First Thursday of the month, class ends with meditation, please bring cushion or seiza bench if you have them.
Seido Karate
Seido Karate was founded by Kaicho (Chairman) Tadashi Nakamura. Kaicho Nakamura came to New York City in 1966 to bring the Kyokushin Karate style of Sosai (President) Masutatsu Oyama to the United States, but eventually began to find differences in philosophy with his longtime mentor. In 1976 Kaicho Nakamura respectfully withdrew from the Kyokushin-kai and began to build Seido Juku, "the school of the Sincere Way". (More...)
Welcome to Seido Karate (for prospective students) from Seido Karate on Vimeo.
Jun Shihan Tom Swiss
Jun Shihan ("Associate Master Instructor") Tom Swiss began his Seido Karate training in 1985. He holds the rank of sixth degree black belt in that art. After receiving black belt ranking in October 1995, he spent several years as an assistant instructor at the Howard County Seido program before starting the Catonsville Seido Karate program in January of 2002. (More...)
Catonsville Seido
The Catonsville Seido Karate program is open to men and women of all ages, and to children 7 and up.
If you're looking for martial arts training for yourself or for your children, contact us to find out what Seido Karate can do for you! We'll be happy to have you visit and watch a class, with no obligation.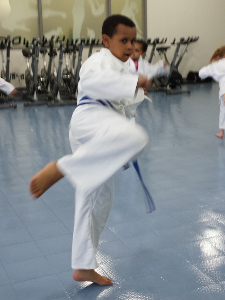 More information
More information about Seido Karate.