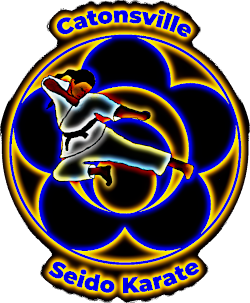 The grayed-out information on this page pertains to our classes at the Catonsville Y, which are suspended during the COVID-19 pandemic. We hope to return to the Y later this year, but will be offering on-line and outdoor classes in the meantime. Please see our COVID-19 updates page for current information, or e-mail or telephone for more information.
Training Fees
Fees are set by the Catonsville Y. You do not need to be a Y member to take class, but members receive a deep discount. The cost per 7 week session (14 classes) is:
Y Member: $65.00
Open Rate: $105.00

No long-term contracts, no high-pressure sales.
If you are not a Y member, the easiest way to register is to call the Catonsville Y at 410-747-9622 or visit in person. The Y's friendly staff will be happy to help you.
On-line registration is an option, but the process can be obscure if you are not already a member, and the site is not mobile-friendly. (Sorry, it's the Y's system, not ours!) To register on-line try this link, it should take you to a page with links to our adult and youth programs.
Financial assistance is available through the Y. I do not want to turn away students for financial reasons; if you want to train but cannot afford to do so, we will make arrangements.
Other Costs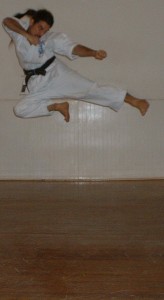 Training fees do not include additional expenses, such as:
Purchase of a uniform ("gi"). I suggest that new students - especially kids - wait a few weeks and see if interest continues before purchasing a gi; you can train in a t-shirt and sweatpants at first. Karate gi are available from karatedepot.com for about $20 to $30; locally, good gi can be purchased at the Kiyota Company, 2326 N. Charles Street in Charles Village, or Warrior Emporium, 1228 Light Street in Federal Hill. You probably want to get 100% cotton (though young kids who don't sweat as much might get away with a poly/cotton blend), and make sure you get a karate gi (not a judo gi, not a tae kwon do uniform).
World Seido Karate Organization membership. $20/year, 3 years for $40. Must be a member before taking promotion; again, I suggest new students wait a bit.
Seido Karate patches for the gi. Buy a set when you join the organization. $25 for a pair. Patches last a long time, they will likely outlast your gi and can be transferred to a new one.
Promotion fees. Promotion exams are held at the Howard County YMCA Seido Karate Program. For students below green belt, the fee is $25. Your first few promotion exams might be at three to six month intervals; they get further apart as you go on. (Black belt promotions are held at our headquarters in New York and are more expensive - but it's a little early to worry about that...)
Sparring safety gear. You don't have to worry about buying this until you reach green belt, typically a year to eighteen months of training.
Books. Not a mandatory purchase, but I recommend Kaicho Nakamura's "textbook" Karate Kyohan, and his autobiography The Human Face of Karate to all students. Both are available at the Seido on-line store. (We have a dojo copy of Human Face of Karate for lending.) Kaicho's older book Karate: Technique and Spirit is also recommended.

Outside of Seido, other suggested reading includes Gichin Funakoshi's autobiography Karate-do: My Way of Life, and Eugen Herrigel's famous Zen in the Art of Archery. If you keep training you might find yourself collecting martial arts books - it can become an expensive habit!