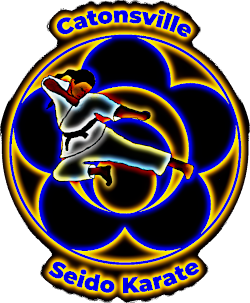 COVID-19 Operations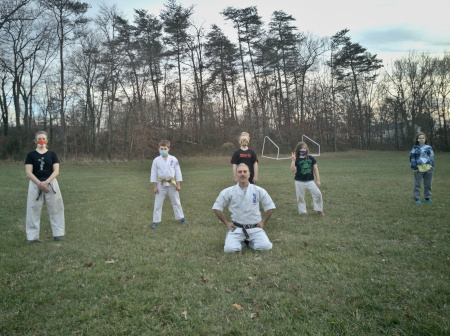 March 2021 update:
With spring arriving, we are resuming outdoor classes staring April 11. (We're having a FREE class, open to all (ages 7+), on that date at 2pm.)
We are beginning a new chapter in the history of the Catonsville Seido Karate program. At this time it is not clear when or if we will be able to resume classes at the Y; we are proceeding on the assumption that we will be "on our own."
For now we will plan to continue our outdoor and on-line classes through the spring and summer, and will assess the options for indoor locations in the fall.
When and Where?
Classes are held Tuesday and Thursday evening in the fields behind Catonsville Middle School. In the event of inclement weather, class will be held online.
We are also scheduling supplemental Sunday afternoon classes about once a month.
For these outdoor classes you do not need to wear a standard gi and may dress for the weather. We will be evolving guidance on this, but for new students sweatpants and a t-shirt or sweatshirt are fine. You may wear shoes, even a jacket, hat, and gloves in case of a chilly day.
At this time we are combining youth and adult/teen classes as follows:
Regional Covid information
Youth/Family (ages 7-13 plus parents) Beginner:

Youth/Family (ages 7-13 plus parents) Yellow Belt and up:

Teens (13+) and adults:
We are also scheduling supplementary classes on some Sunday afternoons.
If you would like to join us, please contact me!
How Much?
As we are only able to provide limited training at this time, we have a deeply discounted monthly fee of $32, payable by subscription.
And if this fee would prevent you from training, a sliding scale is available; I will not turn away a student for financial reasons during this economic crisis.
(The voluntary extra support of members enables us to offer this sliding scale for those in need.)
For occasional visitors, a drop-in rate of $12 per class is also available.
Training During the Pandemic
The following covid safety rules and conditions apply on top of our usual policies:
Students must wear a mask/face covering
Partner drills will be distanced. Optionally, students who live together or are in a preexisting "quarantine pod" may work together at normal range.
Instructors will work with students at normal range only if the instructor is fully vaccinated against COVID-19 and both student and instructor are masked.
If at any time you develop COVID-19 symptoms or test positive for infection, you must notify your instructor.
On-Line Classes
In case of rain or other inclement weather, classes are on-line.
See our orientation video for on-line classes:
For on-line classes, subscribers may join via Zoom or via Facebook. We will e-mail subscribers the Zoom links and add them to our private Facebook group.
Facebook may work better for some people as it's one-way video, so less bandwidth and less processor power is required. If you join us live on Facebook, please comment so we know you're there! (Just a quick, "Osu, Jun Shihan!" is fine.) I can also take questions through the Facebook comments. Facebook videos will be posted to a private group which subscribers will be able to access.
You can also take class from the Facebook video afterward, on your own time.
Private Lessons and Personal Training -- In-person or On-line
In the past, I have advised people asking about private lessons that it was better to come to class and be part of the Seido community...but these are not normal circumstances.
I am now making both private karate and self-defense lessons and personal fitness training sessions available, either in person (at your location or on my patio), or on-line. Please see the linked pages for price information.
Contact me for more information.